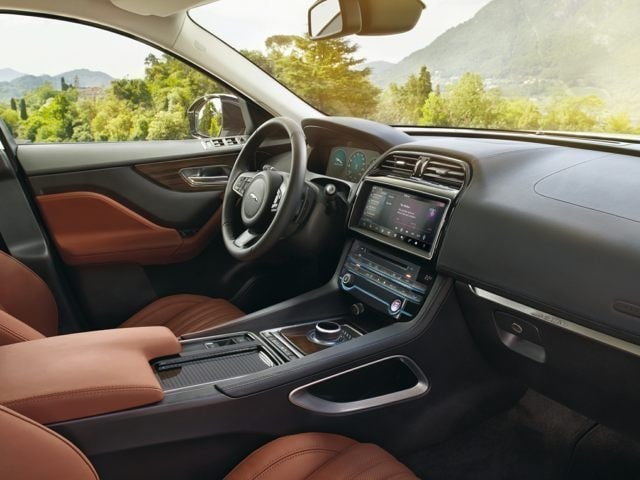 Image is 2017 model
The Jaguar F-PACE is the brand's first-ever luxury SUV; so it stands to reason that it'll be seeing some tweaks here and there within just the first generation.
Fortunately, they have a pretty exceptional product to start with: that's why the new 2018 Jaguar F-PACE won't look or feel drastically different from its predecessor, but there are still some exciting upgrades we can look forward to from the earlier 2017 F-PACE model.
Check out 2017 F-PACE vs 2018 F-PACE here, or browse Jaguar inventory to see what we have in stock now.

Some New Firepower Under the Hood
The entry-level (and aptly-named) F-PACE trim now offers a 2.0-liter turbo four; this thrilling engine creates 247 horsepower and 269 pound-feet of torque. Jaguar claims an acceleration of 0 to 60 in about 6.4 seconds. Another new powertrain addition is a retuned 2.0-liter diesel four-cylinder that will be replacing a similar diesel engine in the outgoing model.

Upgraded Features and Infotainment
Safety is boosted in the 2018 F-PACE model, adding a 360-degree camera for complete mastery of your environment; forward cross-traffic detection; and a guidance system that can help gauge distance to objects while parking. The 2018 model also adds new trim levels to its collection: the F-PACE S with supercharged V6, and the F-PACE Portfolio with a limited, special-edition luxury interior.